PES 2012 PS3 Review
Publisher – Konami – Developer – Konami – Genre – Sports – Players – 1-4 – Age Rating – 3+ – Other console/handheld formats – Xbox 360, Wii, PSP, 3DS, PS2

As EA's FIFA series has pulled further and further ahead of Konami's once dominant Pro Evolution Soccer titles, I've got to admit that there's been a little sadness in my heart. I'm from a generation that spent many of their formulative gaming years absolutely enthralled by the ISS and Pro Evo titles on the PS1 and PS2. Hence I've consistently anticipated the latest Konami release, desperate for the eventual role reversal and fall back to the true order of footballing gaming titles with the PES games at the top of the tree.
Alas, with Pro Evolution Soccer 2012 once again Konami fall short. Having played the exquisite FIFA 12 for dozens of hours prior to getting my hands on the final code of PES 12, the flaws are unfortunately once again immediately apparent.
For starters, the control you have over the players and exactly what they do simply doesn't compare. With FIFA 12 you truly feel totally in control of exactly what each of your player's is about to do. PES 12 sadly lacks that sense of connection, with an unusual lack of immediacy leaving you scratching your head as yet another player takes a touch too many, or plays a pass that doesn't arrow quite in the direction you desired. Yes things can be tweaked by the quite hefty number of control options you can merrily fiddle with. And yes you do have to suffer from the odd flaw in ability from your players. But it does unfortunately cause too many instances of frustration to be completely explained away.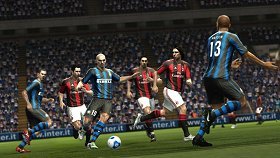 All that is a heck of a shame, as when it works, PES 12 plays an incredible brand of fast paced footballing action. While FIFA 12 has gone down the staunch realism route, a blast of PES 12 can feel almost alarming frantic. If FIFA 12 is the slower more technical Spanish game, PES 12 is definitely the brutal hard hitting quick paced English Premier League.
You can, when it all comes together, put together some incredible flowing moves. As long as you stick within the realms of believability (attempting to urge a player to pass a ball which would require a dislocation of his leg to perform as you'd hope will see the pass dribble pitifully in another direction) there's some fantastic action to enjoy. Local multiplayer in particular can be an absolute blast, and it does hark back to the classic PES action of old.
Defending however is continuously tricky. Perhaps as I had become used to the nuances of the new FIFA 12 defending technique I wasn't quite up to learning another new method with PES 12, but it never truly clicked. Balls thrown into my box were scrambled clear at best, with most bouncing around and ultimately finding one of my opponents. And that was on skill levels from Beginner all the way to Top Player. Close tackling felt lacking in any real depth and oomph, with AI opponents simply drifting through the vague movements of my defence. Headers were regularly lost or not even challenged for. And slide tackles became almost anonymous with any hint of change of direction leaving one of my players sat on his behind for far too long.
Again, that may just be my lack of ability to change my own defending techniques after ample time with FIFA 12, but with a few weeks worth of playtime under my belt, you'd expect vastly more improvement than what I found. Games were almost always high scoring affairs, with goals regularly hitting close to double figures when both teams final tallies were combined.
A flaw from last year which seemed to rear its ugly head was the reluctance for my AI compatriots to make forward runs. Strikers seemed oddly unable to run the channels, and wingers almost had to be forced to make headway down the lines with a full-back in possession. It didn't happen 100% of the time, with the odd incredible overlap or perfectly timed break helping instigate another goal scoring opportunity. But it did again happen enough to be noticed and criticised.
On the plus side in terms of AI, players are now much happier to fill in for their team mates. In prior titles an out of place central defender could be exploited again and again as no-one would show the intelligence to cover. Now a midfielder will drop into the hole and make sure all gaps are plugged before the team can once again settle back to its standard formation. A major improvement, and an incredibly welcome one.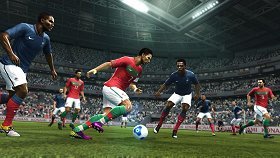 One of the major inclusions this year – and undoubtedly one to combat the lack of AI runs – is the ability to take control of players not on the ball. Utilising various off-the-ball control control options, you can literally take control of a player not currently with the ball at his feet and force them to make that perfect run. It takes a long time to get used to, but it does work. You'll start to spot opportunities you never previously noticed, and after a period of time bedding in you'll get to the point where you can frequently be in the heads of two players at once. It's a magnificent addition to the series.
With the game on the pitch being a mixed bag, there was always hope that the number of gameplay options may take PES 12 to a new level. Unfortunately options are very much the same as always. The official Champions League returns, as does the fondly loved Master League and Become A Legend modes. The online options have had some tweaking, with some excellent Facebook link ups, but it's a bit of step behind all the options that FIFA 12 utilises.
PES 2012 is, again, a few steps behind the FIFA series. While it's playing catch up in the right way, and always improving year on year, it's still got quite a way to go before it can truly be a major contender for the best footballing title out there. Like has been said for the last few years, maybe next season is Konami's time once again?
7/10