Call of Duty: Black Ops II Xbox 360 Review
Publisher: Activision  Developer: Treyarch  Genre: FPS  Players: 1-18  Age Rating: 18+
Other console/handheld formats: PS3, Wii U
---
As Call of Duty games go, Call of Duty: Black Ops II surprises in a few ways. The campaign has some fresh features never seen in the series before, and the centrepiece villain is something a little bit different, and you'll get to know him better than the majority of Call of Duty bad guys. So, as Activision's mega popular series goes, Black Ops II is something relatively unique – a bit of a twist on the series.
The story of Black Ops II spans decades, with some missions taking place in the 1970s and 1980s, while others play out in 2025. Alex Mason, the protagonist from the original Black Ops, returns in the 70's and 80's Cold War missions, and his son, David Mason, is the main star of the 2025 missions. With Black Ops II, we also have a very well fleshed out enemy, although to say too much would spoil it for those who are yet to experience the story. The storyline is, on the whole, one of the better ones for a Call of Duty game.
Call of Duty often has a very divisive campaign, and the campaign here shares a lot of the elements from the majority of the games in the series: big explosions and thrilling set pieces once again means that you'll feel like you are the main star in a big budget action film. It's still as beautifully scripted as ever, although, depending on whom you are, this will be a good thing or a bad thing. So the core of the campaign hasn't really changed all that much, but, as I mentioned in the opening paragraph, there's some new features and, with futuristic gloves, drones, and some slightly sci fi weaponry, the 2025 setting certainly makes for a nice change.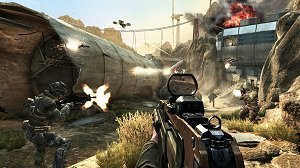 A first for the series is that you are able to make choices that affect the story, and some of these choices are things that may look insignificant on the surface but are actually enough to alter certain things.  There are also a number of different endings and, if you want to see the lot, multiple conclusions certainly adds longevity to the single player portion of the game.
The game also introduces Strike Force missions. These are a twist on the ordinary campaign missions, and have elements taken from RTS games. You are able to instruct troops from an aerial view, although you also get to do the ordinary shooting as well. An interesting idea is that if you fail to play the Strike Force missions, they'll eventually lock you out. And if you're wondering, yes, the Strike Force missions do have a bearing on the story. But are they any good? They do the job and are a refreshing change, but I must admit that I prefer more traditional Call of Duty gameplay, and some of the friendly AI is definitely questionable.
As for the multiplayer, there's also been a few interesting changes here. Kill Streaks have now been turned into Score Streaks, and, as the name suggests, they now come into use through things other than kills, and you'll be encouraged to complete objectives as well. It's a good system that allows a wider range of players to be gifted with goodies.
Then there's the Pick 10 system, of which is an interesting twist on loadouts. Pick 10 basically allows you to create your own class and, be it your main weapon, your weapon attachments, your grenades or perks, each of these takes up one slot out of your ten available slots. This makes for great customisation, and wildcards allow you to add extras without using up any of your 10 slots. Pick 10 certainly alters how long term fans will look at the multiplayer component somewhat.
As for the perks, well there have also been some changes made here. Equipped perks now only have a bearing on yourself, with weapon enhancements happening through their attachments. With Pick 10, it certainly means that many players are going to find themselves fiddling with their characters to their heart is content.
Black Ops II also introduces League Play mode, in which you are able to create or join a team and get matched up against teams of a similar skill level. If you're good enough, your team will eventually reach higher tiers, putting you up against better opposition. League Play mode is certainly a welcome one, and many players will most likely find themselves jumping into it.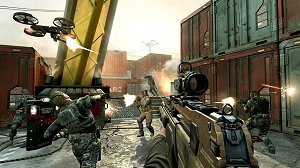 Being a Treyarch Call of Duty game, Black Ops II also features the return of the popular Zombies mode. This time Zombies mode also has a standalone Tranzit campaign, in which you have a robotic bus driver driving you around the connected maps in a single decker, as you fight off the zombie hordes. It's a great mode, but the game doesn't make it clear what some things are, which is a bit unfortunate.
Other Zombies modes include the return of survival mode, and there's also the introduction of the Grief mode. Grief places two teams against each other (you can't actually directly attack your opponents in a manner which results in their death), with zombies obviously also populating the map. You are able to shift the attention of the flesh eaters from yourself and onto the opposing team by finding power-ups such as meat. The team who manages to outlive the other is the winner. All in all, the expanded Zombies mode is mostly a great success.
Call of Duty: Black Ops II is everything that fans have come to expect from a Call of Duty game – and a little bit more. All the spectacle and memorable moments of the campaign are in there, as are the very busy multiplayer modes, but Black Ops II also introduces a few surprises, which means that all involved are attempting to give you value for money and also get more legs out of the franchise, and the successes of the new features means that it's an admirable feat that Treyarch have actually managed to pull off.
---
9/10
---